The 2021 Subaru Love Promise Community Commitment Award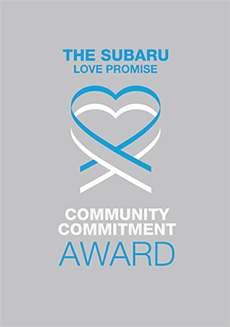 We've been nationally recognized for our dedication to our community and the Subaru Love Promise.
We're honored to receive the 2021 Subaru Love Promise Community Commitment Award. This award nationally recognizes Subaru retailers who are making the world a better place while demonstrating an outstanding commitment to supporting passions and causes in local communities. These efforts are focused in important areas such as the environment, community, health, education, and pets.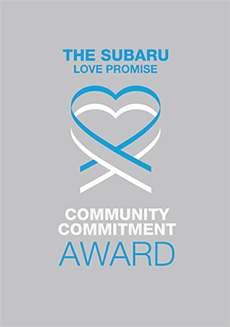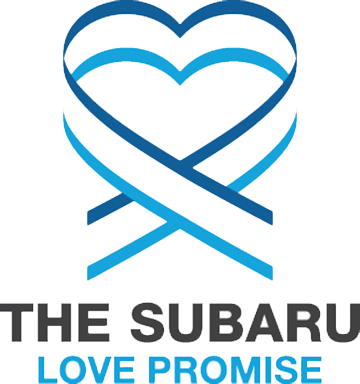 What is the Subaru Love Promise?
Subaru and our retailers believe in making the world a better place and the Subaru Love Promise is our vision of respecting all people. This is our commitment to show love and respect to our customers and to work to make a positive impact in the world.
How is First Team Subaru Suffolk dedicated locally to the Love Promise?
Our Love Promise can be seen in various partnerships with local charities and non-profits. We're grateful for the opportunity, not only to be a part of our community, but to serve it as well.
Portsmouth Humane Society
Northern Shores Elementary
Love Promise Stories from First Team Subaru Suffolk
Subaru and First Team Subaru Suffolk believe in making a positive impact on the communities in which we live and work. We uphold that belief through our Love Promise Community Commitment. Every month, we select inspiring stories from customers and partners from around our area who strive to support our collective commitment and feature them here
Our Hometown Charity Visit - Cherilyn W
We would like to thank First Team Subaru Suffolk for stopping by our Portsmouth Club and presenting us with a generous donation. Boys and Girls Club of Southeast Virginia deeply appreciates the continuous support in enabling great futures to start here.
---
Kittys Need Love Too <3 - Cherilyn W
First Team Subaru visits the Portsmouth Humane Society. We brought food for the pups and hugs for the kitty's 💕 The mission of the Portsmouth humane Society is to provide shelter, care and treatment to homeless animals in Portsmouth, VA through adoptions, spay/neuter programs, and community education.
---
Sharing The Love with Our Homeless Community - Cherilyn W
First Team Subaru of Suffolk was happy to visit The Portsmouth Volunteers for the Homeless. They are the primary providers of emergency shelter for single homeless individuals, helping them achieve self-sufficiency, through resources and training in collaboration with other organizations in Portsmouth. First Team Subaru Suffolk delivered blankets to the Portsmouth Volunteers for the Homeless. Thank you to Executive Director Darlene Sparks Washington and her team for their service! (Also shown in photo is board member Perry Williamson).
---
Rooting for the Underdog - Alison F
You could argue that any pet in an animal shelter is an underdog. Dogs and cats who have been placed for adoption face a number of obstacles - standing out from the crowd, the stress of a shelter environment, illnesses that spread faster in groups of animals, and lack of socialization. Donations are essential to making these obstacles as easy to overcome as possible by improving medical, behavioral, and staffing resources in shelters. This includes pets like Juniper (pictured) who was so stressed in the kennels that she nearly re-opened her spay incision. Resources provided by donations helped us transform Juniper into a happy, healthy girl who was ready to find a new home. In 2020, all nonprofits have faced funding hardships due to the economic impact of COVID-19. Individuals have less to give, companies are conservative with their budgets, and grants have been targeted specifically (and understandably) to COVID-19 relief efforts. This October, First Team Subaru Suffolk partnered with our shelter to make sure that the underdogs weren't left behind. Their generous contribution to Portsmouth Humane Society means that our adoptable animals will have access to the same important and lifesaving resources as always. We're so grateful to First Team Subaru Suffolk for their partnership and support!
---
First Team Subaru Suffolk Lights the Night - Cherilyn W
As part of Subaru Loves to Care, First Team Subaru Suffolk has worked with the LLS Foundation for the last three years in support of patients battling cancer. This year for the first time we had a presence at Light the Night Hampton Roads. Cherilyn Willis from First Team Subaru Suffolk walked with cancer survivor and Subaru Ambassador Will Key, his wife Kim and son Liam. (Will and his son Liam in photo) "Cherilyn, and I walked the 1.6 miles through Downtown Norfolk laughing, talking, and enjoying the beautiful night. We were thankful to be part of Light the Night Hampton Roads but still well aware of the work still to be done. There are too many people right now who can't make that walk, who are too sick to get out of bed or are grieving the loss of a loved one whose light left them too soon because of cancer. The Leukemia and Lymphoma Society rocks this event and together Hampton Roads raised over $260,000. Thank you for your donations." Kim Key- "After seeing and feeling the impact our presence has, I look forward to having more people participate in the walk for 2020. We welcome not only our First Team Subaru team members but our Subaru family, that is everyone that comes in to purchase a car or our service and parts guests. Share the Love!" Cherilyn Willis Subaru Consultant
---
Subaru Loves Learning: Northern Shores Elementary - Meggan A
As part of our Subaru Love Promise and the Subaru Loves Learning program, First Team Subaru Suffolk recently dropped off books for the students at Northern Shores Elementary School. This is the second year in a row that we donated the books to the local elementary school and is always one of our favorite events. We love seeing the excitement on the children's faces when they get to see the new books! We would like to thank Principal White for helping coordinate the event. We look forward to donating even more books next year!
---
Subaru & LLS Deliver Blankets to Cancer Patients - Khiem T
"We look forward to this day all year", Mike, the general manager of Suffolk, Virginia's First Team Subaru told LLS staff. While watching his team members connect with those receiving treatment at Virginia Oncology Associates, Mike reflected on his own experience. Mike was by his mother's side for the duration of her own chemotherapy treatment. "We've all been touched by cancer." he says. This statement is especially true at First Team Subaru. The LLS mission especially hits home for Megan, the team's marketing specialist. Not one, but two of Megan's sorority sisters have received a blood cancer diagnosis, one being her former roommate. Blanket delivery day is a special way for Megan to connect to a cause so close to her heart while hearing the stories of other patients alongside her team. One team member, Will, happens to be a cancer survivor himself. He and Megan spent their time deep in conversation with a patient and he caregiver, sharing stories and laughing together. A special, touching coincidence of the day came from a team member, Cherilyn. The message of hope she shared with a patient came from a First Team Subaru customer named Ester, which so happened to be the name of his caregiver's mother. While it may seem like a small matter, the moment connected the patient and Cherilyn, bringing a bit of joy to both of their days. Once the delivery was completed, the employees of First Team Subaru weren't quite ready to leave. While there was plenty of work to be done back at the dealership, the team decided to extend their stay to spend more time at Virginia Oncology Associates. Last year, the team even made the trip to another nearby treatment center to connect with those patients as well. It's safe to say that First Team Subaru embodied the LLS mission on the day they look forward to every year.
---
Cause For Paws - Mike G
First Team has been an ongoing source of support for the Portsmouth Humane Society. Because of the commitment to homeless animals in our community, The Portsmouth Humane Society is honored to share that Portsmouth Humane Society is now a No-Kill Shelter. They do not euthanize adoptable pets. In 2018, They have had 1,324 animals adopted and ended the year with a 93% save rate. Over the last two years, First Team has been a sponsor for the Portsmouth Humane Society. First Team Subaru has even held a number of fee-free adoption events in their showroom and has even continued its involvement By sponsoring Cause for Paws in 2019. Portsmouth Humane Society is the oldest continually operating humane society in Virginia, having first opened the doors in 1889! They are devoted to providing responsible and compassionate care for animals, advocating humane education, eliminating animal abuse and neglect, and responding to the growing needs of the community. With that being said, First Team Subaru's efforts to provide support has been important to the cause. Because the City of Portsmouth does not have a city-run shelter, The Portsmouth Humane Society serves our community as the public intake facility for Portsmouth as well as a Humane Society.
---
First Team Subaru partners With LLS - Michael G
2018 was our first year participating in the Subaru Loves to Care Event with the Virginia chapter of the Leukemia & Lymphoma Society. Our Subaru Ambassador, customer, and cancer survivor Will Key was an important part in getting us connected with the Harbor View Oncology Department in Suffolk, VA. With the participation of two of our Subaru Ambassadors Will Key and Derek Idrizi, and our General Manager and staff at First Team Subaru Suffolk, we were able to not only provide blankets from Subaru Corporation but important, comforting words of encouragement. It was brought to our attention that some patients do not have family or a support system. We also learned that patients going through treatment experience sensitivity to cold. Some did not know they were going to have treatment the day of their appointments and did not have a blanket, and were thankful we were there. We look forward to making this an annual event to show First Team Subaru Loves to Care through sharing our time and attention to people going through a difficult time.
---
SUBARU/LLS BLANKETS AND WARMTH TO CANCER PATIENTS - Khiem T
First Team Subaru in Suffolk was ecstatic to be a partner in the Share The Love program for the first time this year. From their initial conference call with Leukemia & Lymphoma Society staff member Khiem Tran to their in-person kickoff with 20+ staff members in their showroom, the passion and excitement that First Team Subaru radiated were infectious. General Manager Mike Vinsand shared that their partnership with Virginia Oncology Associates (VOA), Bon Secours Health Center at Harborview has fostered over the years as they have sold a number of Subaru vehicles to employees and patients alike. The opportunity to officially partner with LLS through the blanket program was more than fitting. Not only was the Subaru staff excited for the program, but so was their own Subaru Ambassador, customer, and cancer survivor, John. Although not a blood cancer survivor, John was touched that First Team Subaru was going to be donating 80 blankets to Virginia Oncology Associates and jumped to be a part of the presentation. After taking a staff photo at Subaru on delivery day, Mike, John, and a few others from First Team caravanned with Khiem over to VOA. The visit was truly heartwarming, as the medical contact Sharon Carney helped stage the presentation right there in the treatment room. About 10 patients looked on with curiosity and intrigue as box after box of blankets were brought in and a plethora of Subaru, LLS, and hospital staff filled the narrow hallway. After everything was staged, Khiem addressed the nurses and patients in treatment with an impromptu presentation. He shared some background of our 3-year partnership between Subaru of America and The Leukemia & Lymphoma Society and recognized First Team Subaru locally here in the Suffolk, Virginia community. Together with Mike and John, we used the left over shopping bags to create a tote/kit for each patient in treatment, comprised of a blanket, Care Card, button, and LLS wristband. The patients were touched and surprised to be recipients of the random act of kindness. All parties involved left with warm hearts and burning anticipation to partner together again in 2019.
---
SUBARU/LLS BLANKETS AND WARMTH TO CANCER PATIENTS - Khiem T
At the Carilion Children's Hospital, First Team Subaru and the staff from LLS had the amazing opportunity two meet two patients on the unit. Our first visit was with Miss Melinda. She had to fix her lipstick before we came to visit so she only looked her best. She had such an amazing attitude about what she was going through. She was so welcoming of both the staff at LLS and the staff at First Team Subaru. She was so thankful for the blanket so she could keep herself warm while she was going through her treatment. Our next visit was with Miss Jane. She had one foot out the door because she was on her way to the beach with her family, but we were glad we could steal a few minutes of her time before she left. She told us that she was grateful for all the work that LLS does because she was a recipient of our co-pay assistance grant. When we are fundraising for LLS, we never really stop and think of who this money is going to help. Miss Jane is a perfect example of someone that did not have to dip so much into her savings, like so many patients have to do because LLS could provide her with the funds she needed to receive treatment.
---
First Team Loves my dog! - Danielle L
For anyone, buying or leasing can be a nightmare, especially when the need for a vehicle pops up unexpectedly. I'd found a car to borrow until I found my own, and when I walked into First Team Subaru I was NOT expecting much of anything. My past experience with dealers was skeevy and less than lovely. I was greeted by Charles Seaboch, he smiled and we talked. I met the managers, and Mike was actually from near where I grew up! Then Charles and I were off in the Subaru Impreza-I told him everything I wanted and we found a vehicle that almost fit the bill. While sitting in the office I said that before moving forward I'd need to bring in my dog, and be absolutely sure he'd fit nicely in the back, with room to stand up, sit down and turn around, Charles invited us both back the very next day! (I'd also gone to look at two other vehicles and that experience was worse than bad-but when Charles and Subaru sets the bar high, I guess the others simply can't add up, and they didn't). Arcot, my dog, and I arrived the next day and Charles greeted him with such a huge smile, it was adorable. Arcot fit, and we went into the office to make a deal. I had to sleep on it because I really really was in love with the Island Blue, and the moonroof, for Arcot, and that car simply wasn't anywhere to be found. The entire time that we sat and talked, figuring things out, I don't think one person walked by Arcot without saying hello. Everyone there was SO kind, so loving, and when I see my little guy getting all the love, that tail wag of joy, that fills my heart with more joy than I can articulate. But there was a grey Impreza with everything I wanted, but that grey just wasn't Island Blue. So, after sleeping on it for two nights, I emailed Charles and said that if they could find me the Island Blue with all the bells and whistles, I'd take it! AND since I'd found a friend with a car I could borrow, they didn't have to rush. I sent that email at about 7 am on December 26. December 26, around 4:30pm, I saw that Charles had emailed me. HE FOUND MY CAR!!! I was working all week, but off Friday, so we set an appointment to get me into my very first Subaru. We arrived, again, were greeted with a smile, and again, while discussing everything and getting things set for financing, Arcot was greeted with pets and cuddles from everyone in the building. Everything was all set and Charles was going to call me when my car was set and ready to pick up. The next morning Charles called and said I'd be able to come in at noon to pick up my new, fabulous WOO HOO Impreza, and then moments later I noticed Arcot's toe was very swollen, and in a panic, we took off to get to the vet. Time passed and we ended up being over an hour late, and the care that we received from Charles, his first concern "How is Arcot? Is he okay?" and then "don't worry about being late, he takes precedence. We totally understand, don't worry." And once again, the entire staff stopped by, this time asking why Arcot was wearing a boot. AND what makes all of this even better?! Subaru supports the ASPCA, which is a cause close to my heart. AND they help out the local SPCA in Portsmouth! A dealership that puts their dollars where their love is?! Yeah, that's First Team Subaru. (AND there was a little ding in the passenger door, Charles made an appointment, and BAM ding is GONE! I love this place, and Arcot and I so appreciate Charles and his kindness.) Charles is absolutely fantastic, every interaction we have, he asks how Arcot is doing and it just means the world to me. I've attached a photo I took where Charles surprised Arcot with hugs, and I absolutely melted. This is why everyone should be in Subaru's-FROM First Team <3 OH! And Charles got me my first Subaru beanie too!
---
Subaru and NWF Love the Earth! - Alfred R
There are two plants that are not part of the plant set you sent but our raised beds are great for the plants. As you can see the Sun Fire plants are blooming.
---
Adoption Event a Success!! - linda l
On Saturday October 29, First Team Subaru Suffolk paired with Portsmouth Humane Society for an Adoption Event and Donation Drive that was an overwhelming success! Four Dogs spend the afternoon being spoiled and pampered in the First Team Subaru Showroom while looking for their forever homes. Warby, a one year old lab/retriever mix, was adopted as a result of his afternoon at Subaru--finding two great new humans to love him forever. Many thanks to Mike Vinsand and Sang Han for their help and generosity in hosting us. A gigantic box of donations from Subaru Staff and Customers came back to the shelter with us which will be a huge help going forward--Subaru really does love pets! Ralph Mesisco Board President Portsmouth Humane Society
---